Google today is celebrating the 87th posthumous birthday of popular Nigerian novelist, poet, critic and professor Chinua Achebe, with a Google Doodle. A Doodle is a special, temporary alteration of the logo on Google's homepage for the celebration of holidays, events, achievements and prominent people.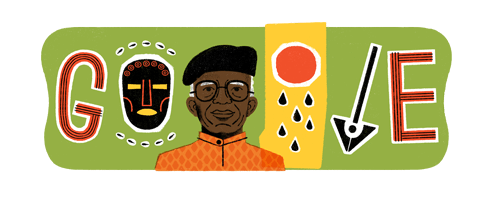 Chinua Achebe was one of Africa renowned crusaders of African literature. He decided to become a writer in  1939 after reading a book titled Mister Johnson by Joyce Cary that portrayed its  Nigerians characters as either savages or buffoons.
Achebe was determined to change the way Africans especially Nigerians were portrayed and proceeded to write his first novel titled 'Things Fall Apart' in 1958 which became one of the most widely read books in modern African literature.
Some of his other works include, No Longer at Ease (1960), Arrow of God (1964), A Man of the People(1966), and Anthills of the Savannah (1987).
Before his death in 2013, Achebe was honoured with awards such as;